2020 WASSCE ranking full list – Ashanti Region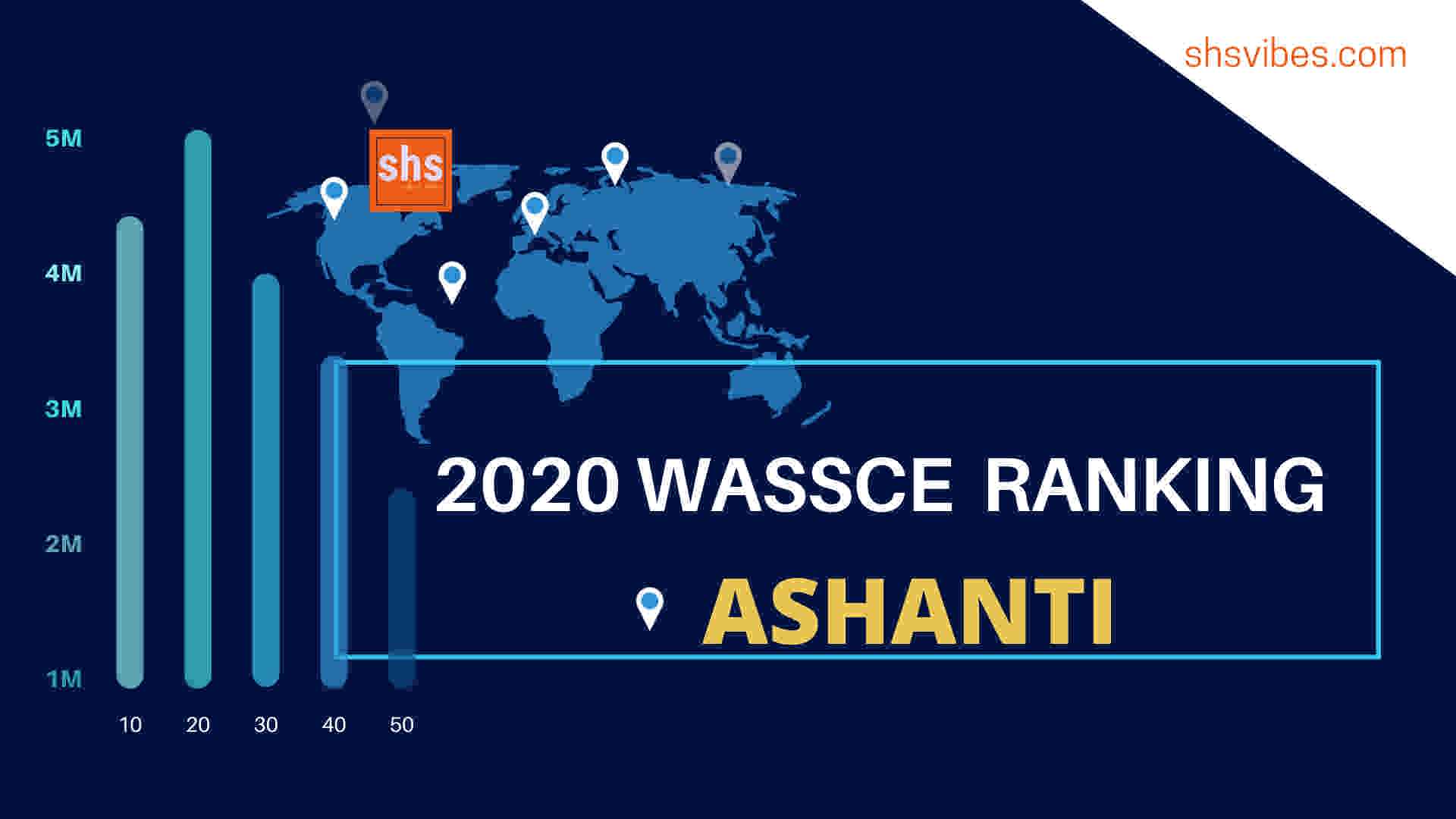 As of 2020, the Ashanti region has about 134 public schools, making it one of Ghana's regions with the most senior high schools.
Knowing which schools are the best in each region will help students achieve their goal of attending their ideal school. Teachers and parents also make informed decisions based on these insights not forgetting the alumni of the various senior high schools.
SHSvibes.com in this article highlights the best schools in Ashanti Region-2020; based on the WASSCE ranking released by GES 2019. This is the recent data available as we anticipate the 2020 WASSCE ranking. This article contains Category A, B, C, and F (private schools) in the Ashanti region.
WASSCE ranking – Ashanti Region
| | | | | |
| --- | --- | --- | --- | --- |
| N0# | School | %Pass | Cat. | Gender |
| 1 | St. Louis Senior High School, Kumasi | 94% | A | Girls |
| 2 | Sekyedumase Senior High/Tech School | 89% | B | Mixed |
| 3 | Bankoman Senior High School | 89% | B | Mixed |
| 4 | Tawheed Senior High School. | 88% | B | Mixed |
| 5 | St. Mary's Girl's Senior High School, Konongo | 88% | B | Girls |
| 6 | St. Monica's Senior High School, Mampong | 87% | B | Girls |
| 8 | Opoku Ware Senior High School | 86% | A | Boys |
| 9 | Prempeh College | 83% | A | Boys |
| 10 | Ghana Muslim Mission Senior High School | 82% | B | Mixed |
| 11 | Yaa Asantewaa Girls Senior High School | 81% | A | Girls |
| 12 | Nyinahin Cath. Senior High School | 81% | C | Mixed |
| 13 | Ofoase Senior High/Tech School | 81% | C | Mixed |
| 14 | Jacobu Senior High/Tech School | 80% | C | Mixed |
| 15 | St. Hubert Sem/Senior High School, Kumasi | 78% | B | Boys |
| 16 | Mpasatia Senior High/Tech School | 78% | B | Mixed |
| 17 | Okomfo Anokye Senior High School | 76% | C | Mixed |
| 18 | Pentecost Senior High School, Kumasi | 76% | C | Mixed |
| 19 | Kumasi Wesley Girls High School | 74% | B | Girls |
| 20 | Knust Senior High School | 73% | B | Mixed |
| 21 | Fomena T.i. Ahmadiyya Senior High School | 73% | B | Mixed |
| 22 | Tijjaniya Senior High School | 70% | C | Mixed |
| 23 | Kumasi Senior High School | 69% | A | Boys |
| 24 | St. Michael's Senior High School, Ahenkro | 68% | B | Mixed |
| 25 | Bodomase Senior High/Tech School | 65% | C | Mixed |
| 26 | Osei Kyeretwie Senior High School | 63% | B | Mixed |
| 27 | T.I Ahmadiyya Girl's Senior High School, Asokore | 63% | B | Girls |
| 28 | Dompoase Senior High School | 61% | B | Mixed |
| 29 | Kumasi Academy | 60% | B | Mixed |
| 30 | Antoa Senior High School | 59% | C | Mixed |
| 31 | Ejisu Senior High/Tech School | 59% | C | Mixed |
| 32 | Aduman Senior High School | 58% | | Mixed |
| 33 | T.I. Ahmadiyya Senior High School, Kumasi | 56% | B | Mixed |
| 34 | Anglican Senior High School, Kumasi | 56% | B | Mixed |
| 35 | Osei Tutu Senior High School, Akropong | 54% | B | Boys |
| 36 | Asanteman Senior High School | 53% | B | Mixed |
| 37 | Afua Kobi Ampem Girls' Senior High School | 52% | B | Girls |
| 38 | Beposo Senior High School | 52% | B | Mixed |
| 39 | Armed Forces Senior High/Tech School, Kumasi | 51% | B | Mixed |
| 40 | Effiduase Senior High/Comm School | 51% | C | Mixed |
| 41 | Opoku Agyeman Senior High/Tech School | 49% | C | Mixed |
| 42 | Konongo Odumase Senior High School | 48% | B | Mixed |
| 43 | Dadease Agric Senior High School | 48% | C | Mixed |
| 44 | Adventist Girls Senior High School, Ntonso | 48% | C | Girls |
| 45 | Oppong Mem. Senior High School | 45% | B | Mixed |
| 46 | Bodwesango Senior High School | 45% | C | Mixed |
| 47 | Owerriman Senior High School | 43% | C | Mixed |
| 48 | Asare Bediako Senior High School | 43% | B | Mixed |
| 49 | Adventist Senior High School, Kumasi | 42% | B | Mixed |
| 50 | St. Jerome Senior High School, Abofour | 42% | B | Mixed |
| 51 | Mankranso Senior High School | 42% | C | Mixed |
| 52 | Kumasi Girls Senior High School | 41% | B | Girls |
| 53 | Tweapease Senior High School | 40% | C | Mixed |
| 54 | Serwaah Nyarko Girls' Senior High School | 36% | B | Girls |
| 55 | Juaben Senior High School | 35% | B | Mixed |
| 56 | Amaniampong Senior High School | 31% | C | Mixed |
| 57 | Ejuraman Anglican Senior High School | 31% | C | Mixed |
| 58 | Nkawie Senior High/Tech School | 30% | C | Mixed |
| 59 | Sabronum Methodist Senior High/Tech School | 30% | C | Mixed |
| 60 | S.D.A. Senior High Scool, Bekwai | 29% | B | Mixed |
| 61 | St. Joseph Sem/Senior High School, Mampong | 29% | B | Mixed |
| 62 | Konadu Yiadom Catholic Senior High School | 29% | B | Mixed |
| 63 | Akumadan Senior High School | 29% | C | Mixed |
| 64 | Kumasi Senior High/Tech School | 29% | C | Mixed |
| 65 | Islamic Senior High School, Ampabame | 28% | B | Mixed |
| 66 | Collins Senior High/Commercial School, Agogo | 27% | B | Mixed |
| 67 | Juaso Senior High/Tech School | 26% | C | Mixed |
| 68 | Akwesi Awobaa Senior High School | 26% | C | Mixed |
| 69 | Obuasi Senior High/Tech School | 24% | C | Mixed |
| 70 | Bonwire Senior High/Tech School | 24% | C | Mixed |
| 71 | Namong Senior High/Tech School | 24% | C | Mixed |
| 72 | Otumfuo Osei Tutu II College | 23% | B | Mixed |
| 73 | Adanwomase Senior High School | 22% | C | Mixed |
| 74 | Church Of Christ Senior High School | 21% | F | Mixed |
| 75 | Bosome Senior High/Tech School | 21% | B | Mixed |
| 76 | Adu Gyamfi Senior High School | 20% | C | Mixed |
| 77 | Nkenkansu Community Senior High School | 20% | C | Mixed |
| 78 | Adugyama Comm. Senior High School | 20% | C | Mixed |
| 79 | Tweneboa Kodua Senior High School | 19% | B | Mixed |
| 80 | Kofiase Adventist Senior High/Tech School | 19% | B | Mixed |
| 81 | Maabang Senior High/Tech School | 18% | B | Mixed |
| 82 | Sakafia Islamic Senior High School | 17% | B | Mixed |
| 83 | Uthmaniya Senior High School, Tafo | 17% | C | Mixed |
| 84 | Wesley Senior High School, Konongo . | 17% | B | Mixed |
| 85 | Jachie Pramso Senior High School | 16% | B | Mixed |
| 86 | Agogo State College | 15% | C | Mixed |
| 87 | Ofoase Kokoben Senior High School | 15% | B | Mixed |
| 88 | Adobewora Comm. Senior High School | 15% | C | Mixed |
| 89 | S.D.A. Senior High School, Agona | 14% | B | Mixed |
| 90 | Ejisuman Senior High School | 13% | C | Mixed |
| 91 | Nsutaman Cath. Senior High School | 13% | B | Mixed |
| 92 | Akrofuom Senior High/Tech School | 13% | B | Mixed |
| 93 | Christ The King Cath. Senior High School Obuasi | 12% | B | Mixed |
| 94 | Kofi Adjei Senior High/Tech School | 11% | C | Mixed |
| 95 | Atwima Kwanwoma Senior High/Tech School | 11% | C | Mixed |
| 96 | Presbyterian Snr. High School, Bompata | 10% | B | Mixed |
| 97 | Achinakrom Senior High School | 10% | C | Mixed |
| 95 | Al-Azariya Islamic Senior High School, Kumasi | 10% | B | Mixed |
| 99 | New Edubiase Senior High School | 9% | B | Mixed |
| 100 | Nuru-Ameen Islamic Senior High School, Asewase | 9% | B | Mixed |
| 101 | Agric Nzema Senior High School, Kumasi | 9% | C | Mixed |
| 102 | Dwamena Akenten Senior High School | 8% | B | Mixed |
| 103 | Simms Senior High/Comm. School | 8% | | Mixed |
| 104 | Agona Senior High/Tech School | 8% | B | Mixed |
| 105 | Prince Of Peace Girls Senior High School | 7% | C | Girls |
| 106 | Gyaama Pensan Senior High/Tech School | 6% | C | Mixed |
| 107 | Presby Senior High/Tech School, Kwamang | 6% | C | Mixed |
| 108 | Parkoso Comm. Senior High School | 6% | C | Mixed |
| 109 | St. Joseph Senior High/Tech School, Ahwiren | 5% | B | Mixed |
| 110 | Wesley High Senior High School, Bekwai | 5% | C | Mixed |
| 111 | Effiduase Senior High/Tech School | 5% | C | Mixed |
| 112 | Denyaseman Cath.senior High School | 4% | B | Mixed |
| 113 | Barekese Senior High School | 4% | C | Mixed |
| 114 | Banka Comm. Senior High School | 4% | C | Mixed |
| 115 | Tepa Senior High School | 3% | B | Mixed |
| 116 | Toase Senior High School | 3% | B | Mixed |
| 117 | Mansoman Senior High School | 2% | C | Mixed |
| 118 | St. George's Senior High Tech School | 2% | C | Mixed |
| 119 | Manso-Adubia Senior High School | 1% | C | Mixed |
| 110 | Esaase Bontefufuo Senior High/Tech School | 0% | C | Mixed |
Read Also: Category B Schools in Kumasi
Contributor: Isaac Koranteng
Source: GES Annual Digest (2019/2020)
Ad