Best 50 Mixed Senior High Schools in Ghana
February 18, 2021 |
29098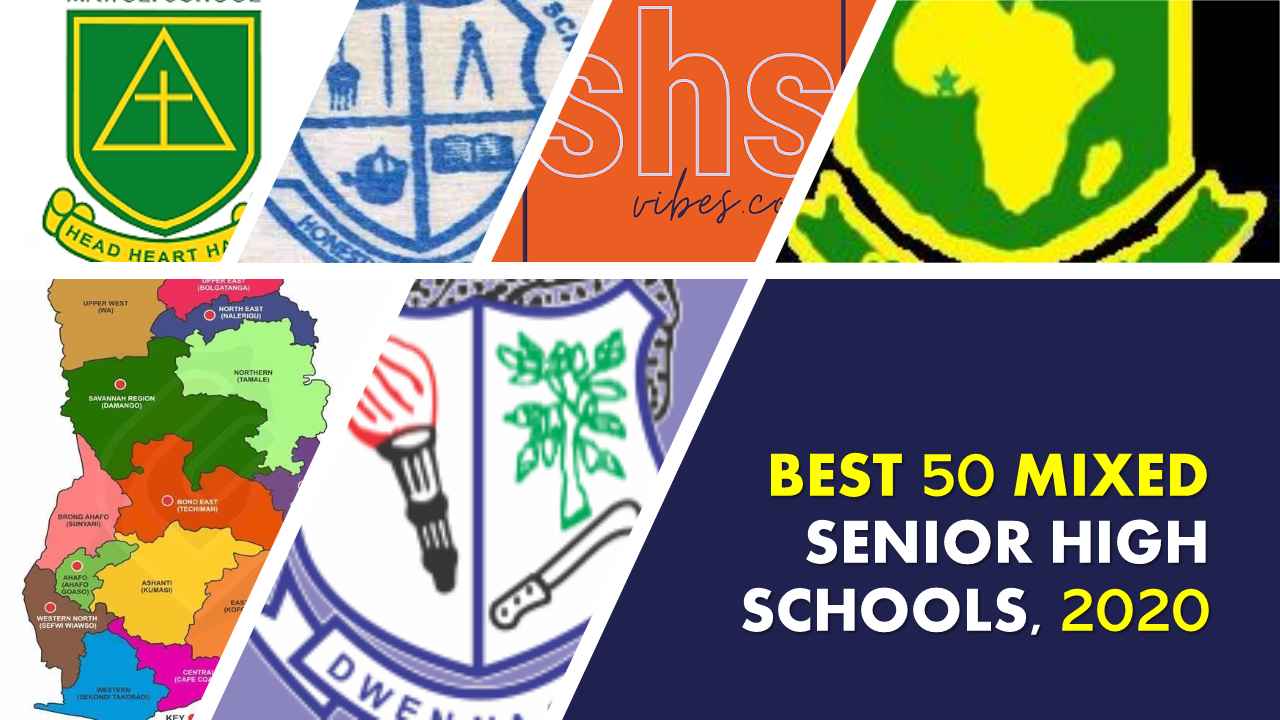 It is the dream of every student, and their parents for him or her to attend one of the best senior high schools in Ghana. There is every good reason to want to attend nothing but the best.
As some believe that the environment one finds himself also determines the influences one is exposed to.
There some who also believe that irrespective of the school one attends, it takes personal hardwork and dedication to excel.
Well for us at shsvibes.com both reasons are valid as different students have passed through different school environemnts and have come out different.
In this article shsvibes presents a list of the BEST MIXED SHS in Ghana based on the 2019 WASSCE performance report as released by GES, and happens to be the most current data on WASSCE performance as we wait for 2020 performance report.
In our research we observed that there are 55 Senior high schools that had 70% pass or more, which are made up of our list.
The list shows the school's name, percentage pass and region located.
Best Mixed Senior High Schools in Ghana 2020
Best SHS in Ghana based on WASSCE 2019

s/n

School

WASSCE
2019 % PASS

REGION

1

Koase Senior High/Tech School

95%

Bono

2

Sumaman Senior High School

95%

Bono

3

Sunyani Senior High School

95%

Bono

4

Ghana Senior High School, Koforidua

94%

Eastern

5

Oti Boateng Senior High School

93%

Eastern

6

Odomaseman Senior High School

93%

Bono

7

Menji Senior High School

92%

Bono

8

Nsawkaw State Senior High School

91%

Bono

9

Krobo Comm.senior High School

90%

Bono East

10

Bankoman Senior High School

89%

Ashanti

11

Ghana National College

89%

Central

12

Ofori Panin Senior High School

89%

Eastern

13

Sekyedumase Senior High/Tech School

89%

Ashanti

14

Jinijini Senior High School

89%

Bono

15

Tawheed Senior High School.

88%

Ashanti

16

Techiman Senior High School

88%

Bono East

17

New Juaben Senior High/Comm School

87%

Eastern

18

St. Peter's Senior High School, Nkwatia

87%

Eastern

19

Achimota Senior High School

87%

Greater Accra

20

Ningo Senior High School

87%

Greater Accra

21

Guakro Effah Senior High School

86%

Bono East

22

Mim Senior High School

86%

Ahafo

23

Sankore Senior High School

86%

Ahafo

24

Presby Senior High School, Berekum

84%

Bono

25

Sefwi Bekwai Senior High School

83%

Western North

26

Boakye Tromo Senior High/Tech School

82%

Ahafo

27

Ghana Muslim Mission Senior High School

82%

Ashanti

28

Kwabre Senior High School

82%

Bono East

29

Vakpo Senior High School

82%

Volta

30

Chiraa Senior High School

81%

Bono

31

Diamono Senior High School

81%

Bono

32

Aggrey Mem. A.m.e.zion Senior High School

81%

Central

33

Nyinahin Cath. Senior High School

81%

Ashanti

34

Ofoase Senior High/Tech School

81%

Ashanti

35

Nkoranman Senior High School

81%

Bono

36

Jacobu Senior High/Tech School

80%

Ashanti

37

Dormaa Senior High School

78%

Bono

38

Mpasatia Senior High/Tech School

78%

Ashanti

39

Bomaa Comm. Senior High School

77%

Ahafo

40

Mpohor Senior High School

77%

Western

41

Kesse Basahyia Senior High School

76%

Bono East

42

Okomfo Anokye Senior High School

76%

Ashanti

43

Pentecost Senior High School, Kumasi

76%

Ashanti

44

Prang Senior High School

76%

Bono East

45

Swedru Senior High School

76%

Central

46

Kajaji Senior High School

75%

Bono East

47

Mawuli Senior High School, Ho

75%

Volta

48

Apam Senior High School

73%

Central

49

Chirano Comm. Day Senior High School

73%

Western North

50

Fomena T.i. Ahmadiyya Senior High School

73%

Ashanti

51

Knust Senior High School

73%

Ashanti

52

Okuapeman Senior High School

73%

Eastern

53

Mpraeso Senior High School

72%

Eastern

54

Nkoranza Senior High/Tech School

71%

Bono East

55

TWaniya Senior High School

70%

Ashanti
Ad